Today PlayStation players received big updates on a trio of exciting upcoming devices: the PlayStation Portal remote player, the PlayStation Pulse Explore wireless earbuds, and the newly revealed PlayStation Pulse Elite wireless headset. In addition to a PS Blog article detailing the products, pricing, and more, I also had the opportunity to get my hands on the in-development devices and test-drive them. Read on for details on new upcoming ways to experience your favorite PlayStation 5 games.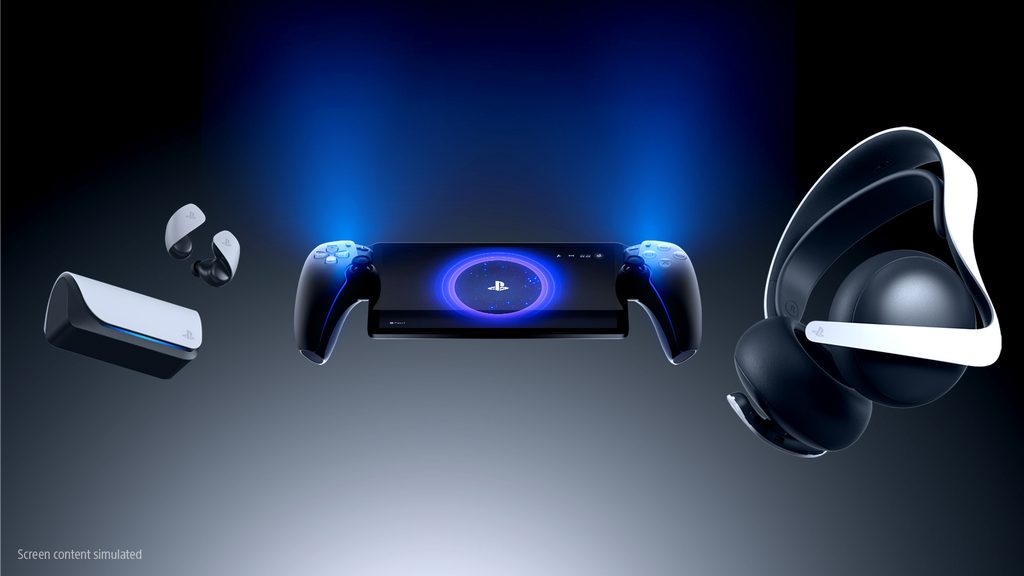 PlayStation Portal remote player
Formerly codenamed Project Q, this is PlayStation's new option for fans who want more ways to play their PS5 library. Imagine a DualSense wireless controller split down the middle with a high-definition LCD display inserted in the middle, and you're halfway there.
DualSense controller experience
The PlayStation Portal remote player spares no expense delivering the true DualSense controller experience. Everything from the grippy texture of the sticks to the throw of the triggers felt like home. I trotted through Cooling Springs in Astro Bot's Playroom, feeling the familiar crunchy grit of a sandy beach with the haptics and adaptive trigger tension of a spring-fired jumping suit. Your hours of muscle memory playing with the DualSense controller will translate one-to-one with PlayStation Portal.
High-definition display
The device boasts a sizable 8-inch LCD 1080p display running at 60hz for up to 60fps gaming. During my hands-on session, PS5 hits like Astro Bot's Playroom, God of War Ragnarök, and Returnal looked crystal clear on the screen. No detail was lost, from the dark alien ruins of Returnal to the bubblegum-bright, cheerful tech-platforming stages of Astro's Playroom. The generous size of the screen also made in-game UI and menu text legible at a comfortable arm's length distance.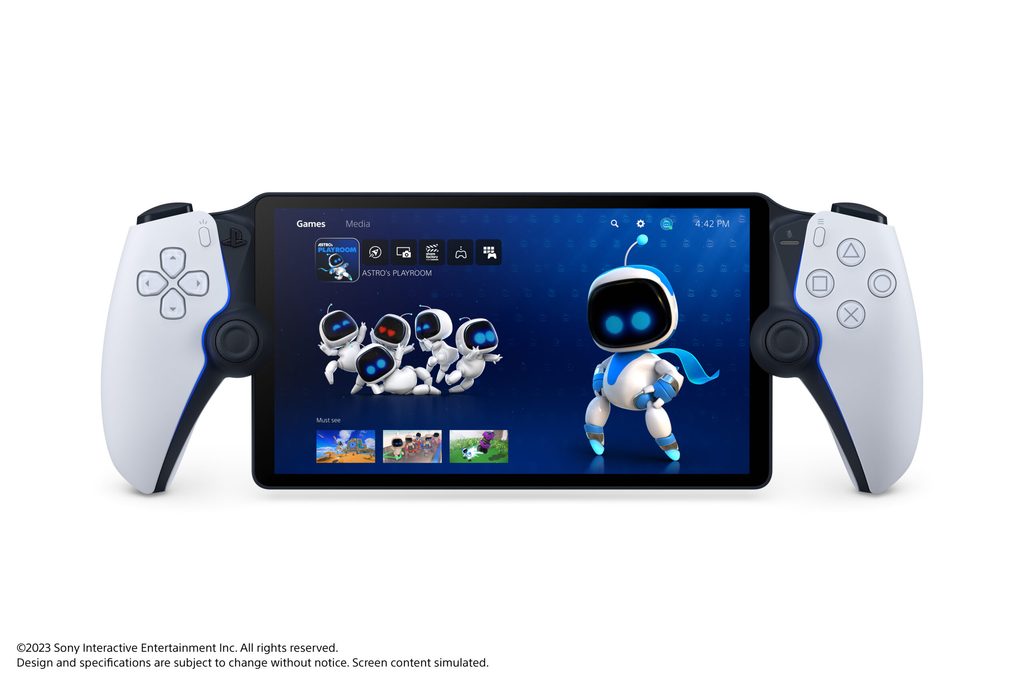 Touchscreen touchpad
PlayStation Portal has a screen where the DualSense controller's touchpad usually lives, but the device still supports similar functionality thanks to touch-responsive areas of the screen. Extending your thumbs towards the bottom corners of the display brings up two transluscent rectangles onscreen, representing a virtual touchpad. One moment in Astro Bot's Playroom requires players to "zip" up a suit with a swipe up on the touchpad – the new virtual version makes this feel like second nature.
Impressive performance
During my demo with the PlayStation Portal remote player, I was impressed by the responsive and smooth gameplay from the very first seconds. Precision platforming felt tight and responsive in Astro's Playroom, as did landing critical shots and dodging enemy projectiles in Returnal. Tapping the PlayStation button and navigating to the PS5's home menu provided the exact same intuitive experience we've come to know and love, and it looked clean and clear on the 8-inch display.
(Additional context: PlayStation Portal was connected to the same local wi-fi network on the 5GHz band channel, but other wi-fi channels work too. A wired ethernet connection from the PS5 to your wireless router is recommended.)
Button setup
Your fingers will naturally find most of the DualSense controller buttons in the places you'd expect (e.g. face buttons, shoulder buttons, triggers, Options, Create button, etc. A couple of notable changes include the PS button found on the left side of the device and the mute microphone button on the right.
PlayStation Portal boasts extra functions, so some additional buttons are in the mix. Volume buttons are located at the top right, and the power button on the top left. The PlayStation Link button, used to connect the device to a Pulse Elite or Pulse Explore is on the left.
3.5MM audio output/input
Have a different pair of wired headphones you want to use? If they've got a 3.5MM jack you can plug it into the bottom of PlayStation Portal.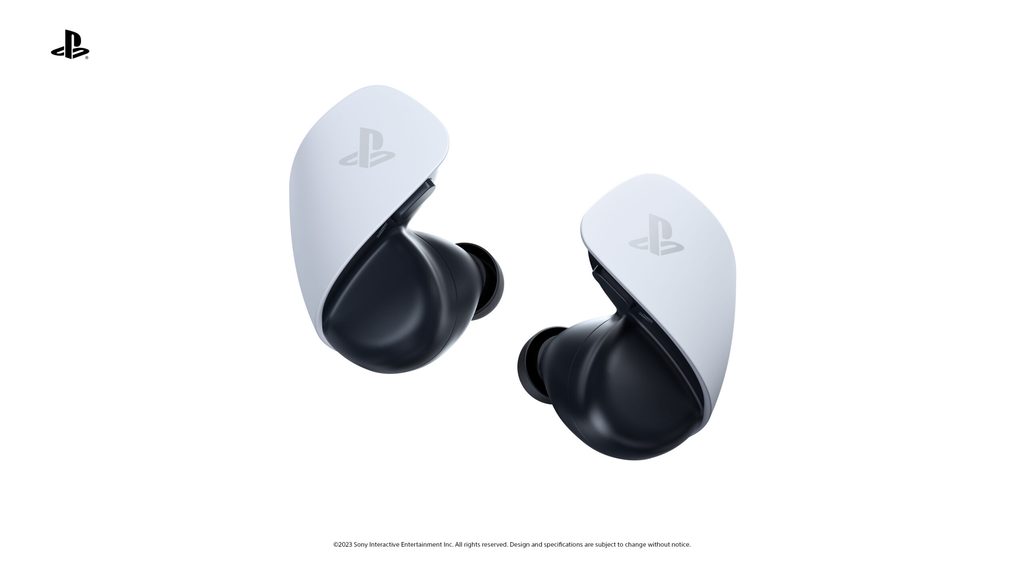 Pulse Explore wireless earbuds & Pulse Elite wireless headset
Good news today for audiophiles, as we have the first details and hands-on (ears-on?) report for a duo of new wireless audio devices. Before diving into the robust features that make each unique, let's dig into their shared functions.
Immersive audio quality
Both the Pulse Explore wireless earbuds and Pulse Elite headset take PlayStation audio quality up a big notch. Both devices sport planar magnetic drivers, which are more commonly found in the high-quality headsets game audio engineers use. Put simply, unlike typical cone-shaped drivers, these flat (planar) drivers convey a wider range of nuanced sounds. Combine this with PlayStation's potent 3D audio and players are in for a crisp, immersive experience. 
PlayStation Link wireless technology
A fourth announcement was PlayStation Link wireless technology. This new tech allows the PS5 console, PlayStation Portal, Pulse Explore wireless earbuds, and Pulse Elite headset to achieve low-latency, lossless audio. The vision is to enable players to bounce between devices at home, freely swapping between their PS5 and PlayStation Portal to play games and bringing their audio devices along for the jump.
Both the Pulse Explore wireless earbuds and Pulse Elite headset come with a PlayStation Link USB adapter, which plugs into your PS5 or PC for low latency, lossless audio. 
Bluetooth compatibility
Both the Pulse Explore and Pulse Elite also support Bluetooth audio, allowing users to enjoy a rich audio experience with a wide range of devices. 
Pairing and using multiple devices 
One unexpected benefit of this new function will allow players to pair and listen to multiple devices in a single session. For example, I experienced a demonstration that involved receiving a phone call while playing God of War Ragnarök on the PS5 console. The Pulse Elite headset was paired to the PS5 console through the PlayStation Link USB adapter, while the phone was paired through Bluetooth – so I heard the phone ringing through my Pulse Elite headset. After answering the call, the call audio seamlessly mixed with the game audio, allowing me to continue playing uninterrupted while chatting. This is great news for anybody who loves to use alternative voice chat platforms or multitask by watching their favorite show or content creator on another device.
AI-enhanced microphone noise reduction
Ever been "that person" toggling the mute button in party chat as you munch your favorite snack? Or worse, been on the receiving end of a friend chewing their food with abandon? Thankfully Pulse Explore and Pulse Elite come equipped with AI-enhanced microphone noise reduction to smooth away repetitive background noise like loud munching, noisy traffic, vacuum cleaners, and the like. The example I experienced involved my caller loudly crumpling a piece of paper near their phone's mic, which the AI-enhanced noise reduction quickly muffled.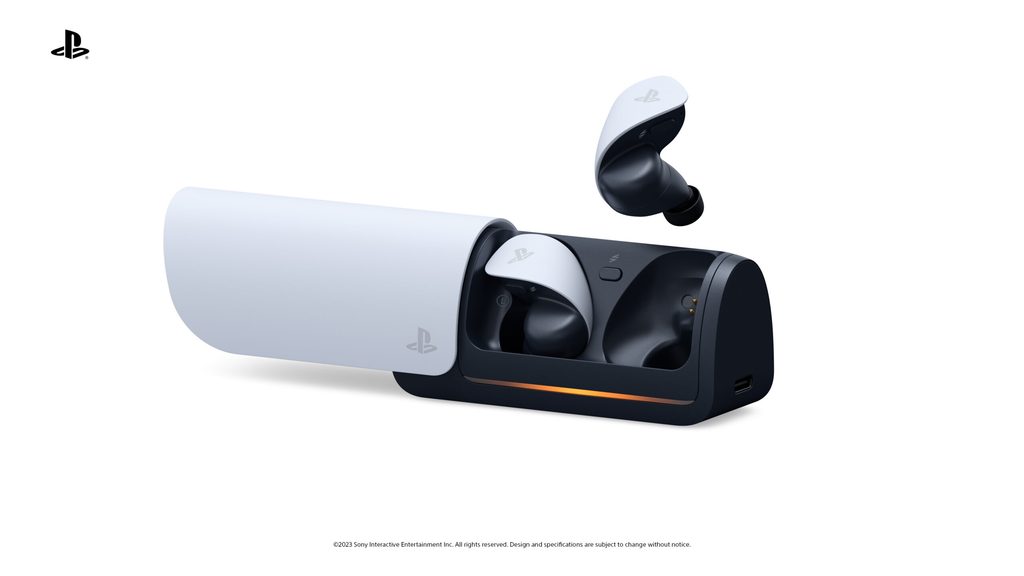 Pulse Explore earbuds hands-on
Charging case
The black and white charging case sports a similar futuristic aesthetic to the PS5 itself. When closed, the compact curved design features a USB-C port on one side, allowing you to charge the earbuds. The white cover can be slid back to reveal the earbuds themselves. Notably, the magnetic sliding action of the cover has a satisfying click to it when opening and closing – I couldn't stop playing with it. The earbuds are magnetically attracted to small contacts within the case, ready to be popped off for use.
Equipping the wireless earbuds
The uniquely designed earbuds come with four ear tip sizes to help users find the right size for their ears. From there, the Pulse Explore earbuds are inserted into each ear with a slight twist motion, resting with the PlayStation logo upright. The Pulse Explore wireless earbuds feel secure and light, allowing you to stay focused on the game as the crisp audio immerses you in the game.
Volume and Link buttons
Players can adjust the volume with up / down buttons on each earbud. Each also has a Link button, which can be used to reconnect and switch to paired devices. Finding the buttons by feel and adjusting the volume is an intuitive and quick experience.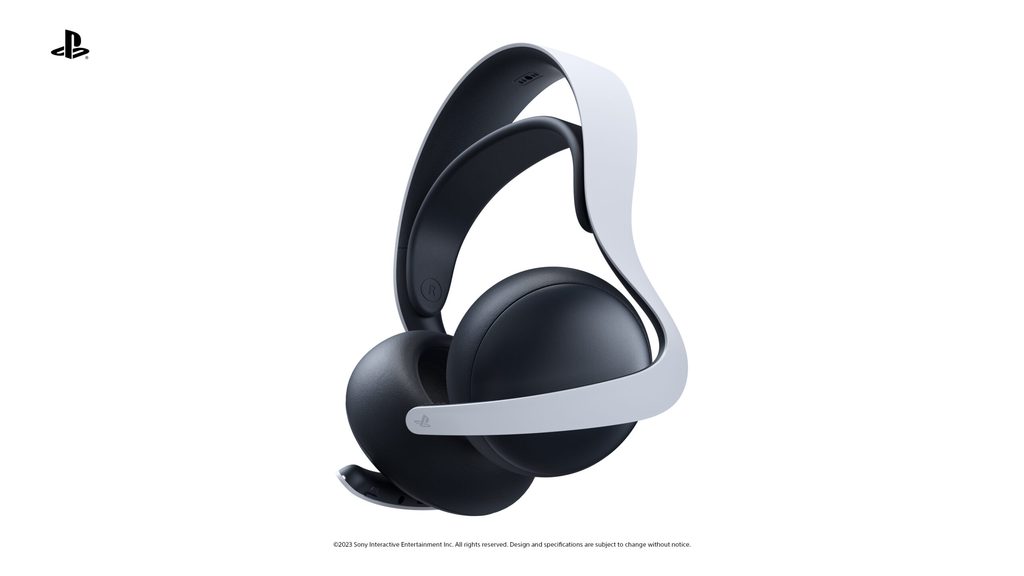 Pulse Elite wireless headset hands-on
Premium over-ear form factor
The new wireless headset sports a comfortable fit with a flexible band that stretches across the top of the head. The earpads cup the ears with a perfect balance between luxurious softness and secure firmness. The headset has a lightweight feel and any awareness of them being atop the head melts away after diving into gameplay.
Clever microphone storage
The Pulse Elite wireless headset has a microphone built into it, which can be extended with a simple pull of the mic's tip. This allows for more precise mic placement with a simple motion. Muting the mic is as simple as pressing its button, which activates an orange indicator light visible in the periphery. 
Storage with built-in charging
The Pulse Elite wireless headset comes with a charging hanger to hang your headset in a convenient location of your choosing. A power cable can be routed into the hanger which charges the headset through contacts located inside the headband.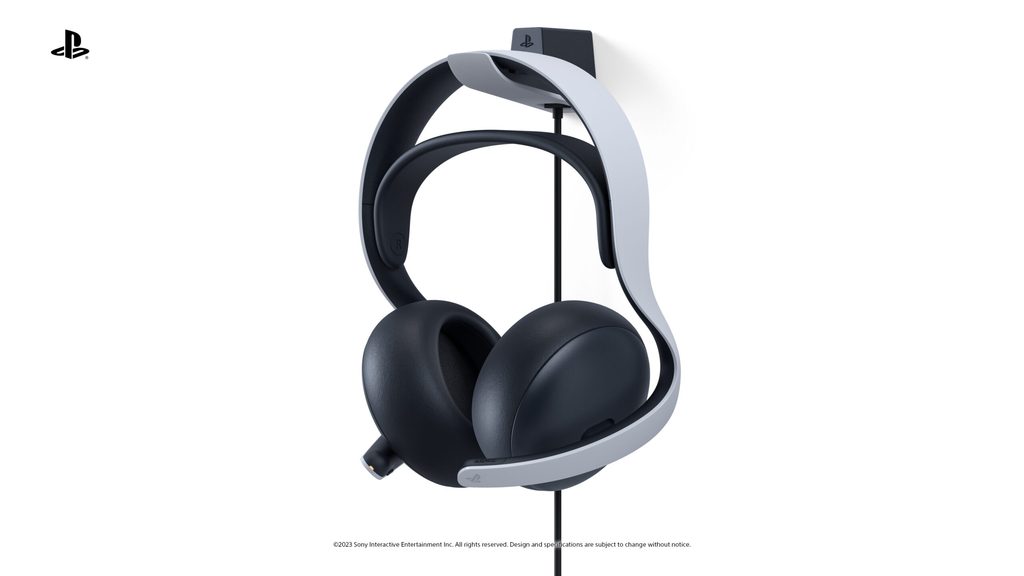 Takeaways
I walked into my hands-on time unsure of what to expect from this new selection of liberating PlayStation products, and stepped away excited to fit the devices into my daily gaming experience. The Pulse Elite wireless headset and Pulse Explore wireless earbuds deliver new levels of immersive 3D audio and user-friendly functions that make them worthy additions for PlayStation fans. My mind continues to race with possible new applications for the PlayStation Portal remote player around the home, enabling me to play my favorite PS5 games off the couch.
Stay tuned for more info on pre-order details and availability for the PlayStation Portal remote player and Pulse Elite wireless headset and Pulse Explore wireless earbuds.